Regular price
Sale price
$0.00 USD
Unit price
per
Sale
Sold out
FREE EXPRESS SHIPPING
from Bali: 5-8 Workday Delivery
- 15% COUPLE SPECIAL (buy 2 & get discount)
ETHICALLY HANDCRAFTED

FULLY HANDCRAFTED IN BALI


With creating our jewelry we try to be as conscious & ethical as we can.

Every step in the process is done by hand by local balinese workers.
We use as much recycled silver as possible. 
The workers in our supply chain get payed a fair loan.
We have direct contact to the workers.
All our jewelry is blessed in a Balinese ceremony.

PACKAGING

Local handmade as well.
We are trying to keep materials as natural as possible.
The main paper of our jewelry boxes is a local handmade recycled eco paper, colored with tea extracts.
For the insert fabric we use 100% cotton.



MORE INFOS HERE: OUR JEWELRY
FREE SHIPPING (PRIORITY)

FREE INTERNATIONAL SHIPPING from Bali.

- FEDX | Secured Priority Shipping

- 3-8 Workday Delivery (We do not ship to PO Boxes)

Please also see the CUSTOM TAX & FEES section below.

View our Shipping Policy for further information.
CUSTOM FEES & TAX

CUSTOM CHARGES ARE THE RESPONSIBILITY OF THE RECIPIENT.

Since our jewelry will be shipped from Bali, international orders are likely to be subject of duties, taxes and custom charges in the country of destination. Unfortunately, due to the various procedures, these charges are impossible to be payed by us and therefore have to be payed by the recipient of the order. 

Most of the time our FEDX priority service ensures smooth processing of custom affairs. 

To avoid any inconvenience, we recommend the buyers to look up the tax regulation of the destination country before purchase.
RETURN

Within 14 Days you can return your order for a refund.

Most of our Jewelry are custom pieces. Due to complicated processes, right now we can only provide return & refund for following situations:

The jewelry was

 

defective/broken on arrival

Customer receives a

 

different item than they ordered.

Jewelry metal differs from described on the website

View our Return & Refund Policy for more information. 

If you want to return your order, please notify us through our contact page.
CARE INSTRUCTIONS

CARE OF JEWELRY

Jewelry tarnishes when exposed to certain conditions.

AVOID
Avoid  swimming, showering or bathing, hot water, chemicals, salty air, exercise or any other intense activity etc.

STORAGE
If your not using it for some time, store the jewelry in a safe and dry place to avoid tarnishing. For example a airtight plastic bag.

PREVENT SCRATCHES
Don't bunch it with several pieces in the same place.

POLISHING
SILVER
To clean our silver jewelry we recommend using microfiber cloth. You can also softly clean it with a special polishing cloth. But especially for the BRACELET we recommend to use jewelry polishing cloth only after about a year, as it has a special protection film on it.

GOLD PLATED
To clean our gold plated jewelry we recommend using microfiber cloth with a soft touch only. Beware of using special jewelry polishing cloth, as it has abrasive elements and chemicals inside, that can harm and tear down the plating.

GOLD
To clean our gold jewelry we recommend using microfiber cloth. Special gold polishing cloth can be used but only with care, as it has abrasive elements inside.
Share
Celebrate yourself now! ✨
View full details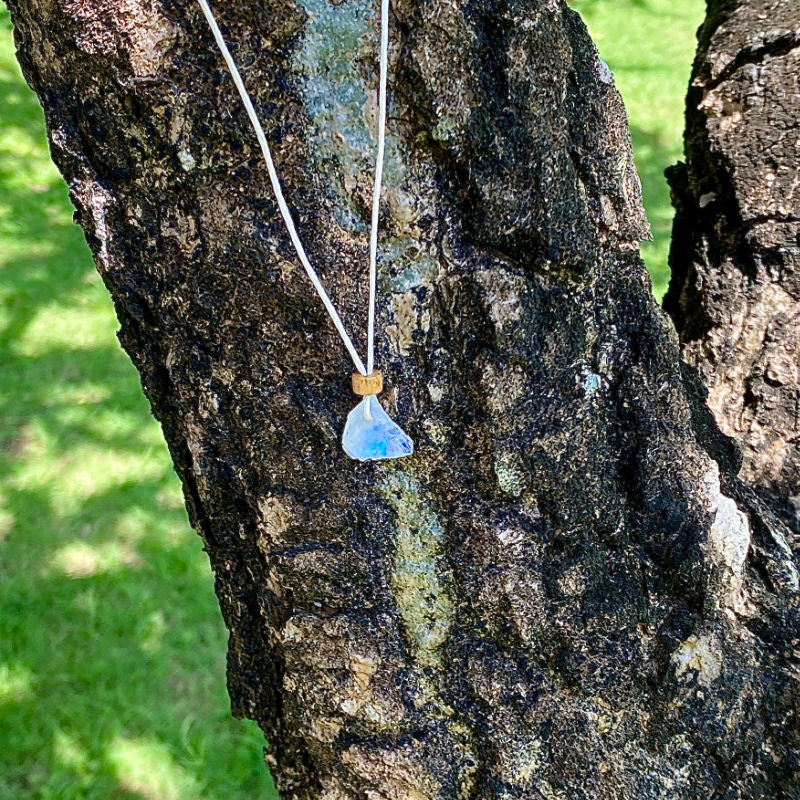 TESTIMONIALS BRACELET
⭐⭐⭐⭐⭐

"The moon stone bracelet has a beautiful color that changes in light and perspective. It reminds me that we perceive the world and our life from the angle we chose to look at it."

Till

⭐⭐⭐⭐⭐

"The rainbow moonstone bracelet fits perfectly and makes my day shine. BROKENSTONE JEWELRY is made with detailed perfection and high quality."

Seungyeon
Discover your MANIFESTATION RING⋆。☾
FAQ
WHY AM I RESPONSIBLE FOR PAYING CUSTOM FEES?

Our Products will be sent internationally from Bali, Indonesia. Shipping into other Countries & Regions often demand custom and tax fees. Unfortunately due to different regulations in the countries of destination and the result of not manageable processes of paying custom fees, we are not able to pay this for you.

We calculate the value of our product including average custom fees.

We hope you understand. We try to be as transparent as we can. From our heart we want you to be happy with our product. 
HOW MUCH DO I HAVE TO PAY FOR CUSTOM FEES

As tax & customs fees differ from country to country, we suggest you to do a quick search for your local custom regulations.
SHIPPING TO MY COUNTRY SEEMS TO BE NOT AVAILABLE ?

If you cannot find shipping option to your desired country. Please write us an e-mail or chat and we can see what we can do. 

contact@brokenstonesjewelry.com 
I WANT A SIMILAR RING BUT CANNOT FIND IT ON THIS WEBSITE

Feel open to chat with us if we can manage to make a custom order.

Please don't hesitate to open a CHAT or write us an email to contact@brokenstonesjewelry.com
I AM NOT SURE ABOUT SOMETHING OR HAVE A QUESTION

Please don't hesitate to open a CHAT or write us an EMAIL to contact@brokenstonesjewelry.com